First time user use promo code FIRST100& get INR 100 off on product purchase.
Search, Consult, Heal!
Cure your illness from the root cause without side-effects.
What Makes Us Special ?
Think Homeopathy, Think Kabera.
Homeopathy is a side-effect free treatment & medicines are derivatives of natural substances. At Kabera Clinics, you can expect personalized, comprehensive healthcare focusing on holistic wellness and prevention. Take your journey from illness to wellness with us at Kabera Clinics where we use homeopathy to cure diseases and disorders permanently.
Read More
2500+
International Cases
Consult by specialization
Browse through our specializations. Homeopathy is particularly effective with chronic and acute illnesses which can be permanently cured without side-effects.
DISCOVER OUR CONTACTLESS TREATMENT!
Consult with us from across the globe. Our treatment is completely contactless and symptom based. Speak to a Kabera Certified Homeopath now!
Schedule
an appointment
Have a minimum of 30-45 minutes of undisturbed time
Get consultation
Our doctors will assess in detail and diagnose your symptoms
Door-step delivery
Have the medicines delivered within India or Internationally.
Our Products
Your well-being is our priority. Browse through our natural curations of highly effective and safe products for a healthier life. All our products are made of natural ingredients.
What user says about us?
I was looking for a homeopathy specialist for the treatment of eczema. My friend suggested Kabera Clinics. Thanks to their homeopathy treatment, within just 2 months my rashes reduced in size & number. Also, there are no new rashes after starting the treatment.

Sneha Mahajan
Delhi
I was suffering from PCOD which used to keep troubling me. I was regularly on antibiotics & other pills and yet the problem would be severe and sometimes accompanied by fever and severe infection. I got to know about Kabera Clinics from my friend and started my treatment from there. Now I am completely off the antibiotics. Last five months, I have been completely free from fever & infection as well. I am very thankful to Kabera Clinics for knowing my disease and treating me so well.

Usha Negi
Mohali
I have been under treatment at Kabera Clinics for the last year and I am very much satisfied with the results. Before Kabera Clinics, I used to lose hair like anything, but now it's much better. I am confident that I won't lose my hair. I am very confident about Kabera Clinics and would recommend it to anyone who has a hair fall or any other problem. My heartfelt thanks to the consultants & doctors over here.

Gaurav Pratap
Bidar
Me and my husband are using hair care products offered by Kabera Global. We ordered these products from their website while we were searching on net. My husband had bald patches, but after applying hair regrowth serum; I noticed significant growth in his hair. Thanks to team kabera for an amazing Bullet Anti-Dandruff shampoo.

iti anusrooti
Mohali
Kabera Clinic Blog
You'd be surprised to discover the depth of our research, success and more. Stay tuned and visit frequently to know more about what we have to say.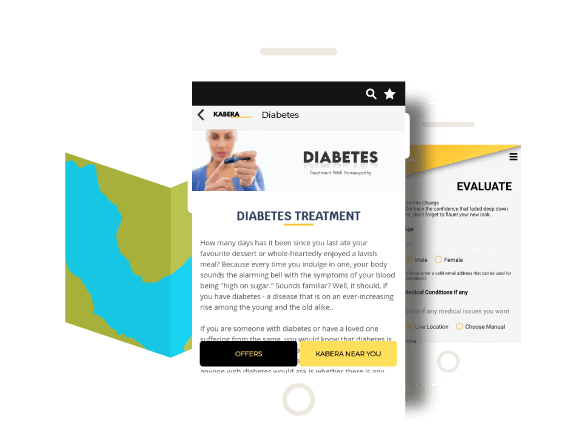 Application
Download the Kabera Clinic App
Our app is specially designed for the ease of patients to connect with their doctor 24*7. Curing your illness with utmost safety and convenience has a new meaning with Kabera Clinics! Book an appointment, escalate health concerns, buy our products online, refer and earn too!.